Location
Dates
Course Summary
Entry Requirements & Duration:
I year add on after successful completion of LC284 Higher Certificate in Engineering in Agricultural Mechanisation (Level 6)
Awarding Body:
QQI/Limerick Institute of Technology
Course Code:
Location:
Salesian Agricultural College, Pallaskenry & Limerick Institute of Technology
Application:
Direct to Limerick Institute of Technology
Maintenance Grant:
Application through SUSI (means tested)
Progression:
Honours Degree studies, Postgraduate studies or employment in the agricultural engineering, and food sector or road transport sector.
Testimonial: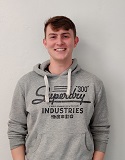 David Doyle, Wexford Town, Co. Wexford
I completed the Higher Certificate in Engineering in Agricultural Mechanisation (Level 6). I found the balance of theory in the morning and practical in the evening excellent. Being able to combine this with getting my green cert was really the selling point for me.
I am currently completing the Bachelor Degree of Engineering in Agricultural Engineering (Level 7). This is an add-on to Level 6 course.
I really enjoyed the trips we went on, to the likes of McHale and LAMMA. I also thoroughly enjoyed doing the practical project. I made a flat 8 bale grab for small square hay bales. I loved the accomplishment of actually being able to use something that I made.
Some of the big skills I learned during my time here were definitely learning to weld as I had never welded before. I also loved the operating of different machines such as the combines and harvesters and learning to strip down machinery.
I plan to continue my education to Level 8 by going on to IT Tralee doing the International Agri Engineering course or the Process Engineering course in LIT. In the long term I would hope to be working with a manufacturing company.
My advice to future students would be to get involved with the sports teams, and get involved on the farm.